SPACE-O I s a member of the ICT4Water cluster, which works towards bringing together actors and initiatives in the field of digital water innovation.
Despite a promising technological scenario, currently, the water domain is characterized by a low level of maturity concerning the integration and standardization of ICT solutions, their business processes and the related implementation in the legislative framework. This is due to the fragmentation of the sector, no holistic vision being set out and a lack of integration and standardization of the technology.
As a matter of urgent priority, this Action Plan defines a group of Actions beyond uncoordinated and isolated initiatives, wide market uptake, aiming to end up with the creation of the Digital Water Services in the single market and contributes to the Connected Digital Single Market and the Resilient Energy Union objectives by promoting sustainable smart technologies in the water sector.
These concrete Actions, in a timeframe from 2018 to 2030, focus on the implementation of transversal activities related to:
interoperability and standardization,
data sharing,
smart water,
cyber-security,
actors' awareness,
policy
business models.
The Action Plan outlines and details necessary steps water community is taking towards a complete value chain transformation. These actions will provide a vision, clear signals to water stakeholders, operators and society on the way forward with long-term targets as well as a concrete, broad and ambitious set of activities. Moreover, it will enhance synergies between the proposed solutions and with other related sectors (e.g. circular economy, water reuse, transport, energy, agriculture and smart cities), also considering social aspects (operators, consumers, legal issues, water value awareness).
For details of the report, check out the Action Plan. The findings will feed into discussion within the Commission for future policy initiative.
See also previous reports drafted by the ICT4Water cluster: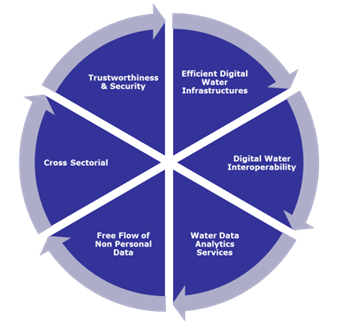 https://ec.europa.eu/digital-single-market/en/news/report-action-plan-foster-digital-single-market-water-services-ict4water